Los Angeles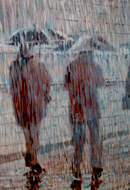 When Prayers for Rain are Answered
Friday, January 11, 2013 by
Alex Joffe
| Jewish Ideas Daily » Daily Features
Israel is, in most minds, an arid land bereft of water, not cursed with its superabundance.  But a look at geography and history suggests otherwise.
Editors' Picks
At Home with Mickey Cohen
Ben Cosgrove
,
LIFE
. Jewish gangster Mickey Cohen was a celebrity as well as a thug.  When he posed for the cameras, though, he was just a family guy. (Photographs by Ed Clark)
Gangs of Detroit
Naomi Sandweiss
,
Tablet
. What gangster Mickey Cohen was to Los Angeles, the Purple Gang was to Detroit—"a Jewish gang feared by even Al Capone's Chicago mob."