Los Alamos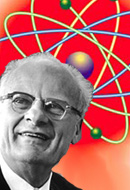 Hans Bethe and the Problem of "Jewish Genius"
Monday, October 15, 2012 by
Alex Joffe
| Jewish Ideas Daily » Daily Features
Few topics make Jews more uncomfortable than the question of "Jewish genius."  While Jews happily point to the extraordinary scientific accomplishments of their co-religionists, discussion of the genetic or cultural basis of these achievements causes squirming and denials.
Editors' Picks
Stalin's Jewish Spies
Baruch Sterman
,
Rarest Blue
. While Stalin was persecuting their coreligionists at home, a disproportionate number of Jews dutifully served him by spying on America's nuclear research.