Leo Strauss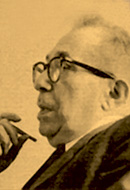 Teshuvah: Progress or Return?
Monday, September 24, 2012 by
Jonathan Ziring
| Jewish Ideas Daily » Daily Features
While in theory the blowing of the High Holiday shofar should be enough to "awaken us from our slumber" and move us to repentance, in practice most people need to look to other sources to enable them to rethink the way they live or their understanding of repentance itself.
Editors' Picks
Philo's Esoteric Torah
Lawrence H. Schiffman
,
LawrenceSchiffman.com
. Influenced by the Hellenistic idea of the separation between body and soul, Philo was the first Jewish thinker to ascribe "outer" and "inner" rationales to the commandments—but by no means the last.
Teaching Like Strauss
Lee Trepanier
,
Imaginative Conservative
. Countering the scientization of the academy, Leo Strauss defended philosophy as the route to understanding "the dignity of the mind," and thereby "the true ground of the dignity of man."