Larry David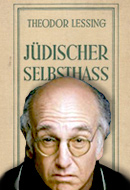 Self-Hatred or Self-Help?
Thursday, November 15, 2012 by
Ben Cohen
| Jewish Ideas Daily » Daily Features
One of the most insightful scenes from Larry David's comedy series, Curb Your Enthusiasm, begins with David and his on-air wife, Cheryl, standing at the entrance to a movie theater.  As they chatter aimlessly, David starts whistling a tune composed by Richard Wagner.