Ladino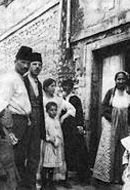 The Betrayal of Salonika's Jews
Thursday, April 18, 2013 by
Andrew Apostolou
| Jewish Ideas Daily » Daily Features
When the Germans entered Salonika on April 6, 1941, they found a willing cadre of collaborators and a broad section of Greek Christian opinion hostile to the Jews.
Editors' Picks
A Voice from Salonika
Nina Caputo
,
Marginalia
. A 19th-century Ladino memoir, published last year, depicts Salonikan Jews tyrannized by a despotic rabbinic ruling class that benefited from exorbitant taxes and fees.
Learning Ladino
Elizabeth Bloom
,
Times of Israel
. Ladino, the language of Sephardic Jews, is undergoing something of a revival.  But there is only one current example of Ladino journalism—in, of all places, Istanbul, Turkey.
The Myth of Sepharad
Teresa Calders
,
Esperança Valls
,
Catalan International View
. Although Jews of Iberian origin are now referred to as Sephardi, the Jews of the Kingdom of Aragon shared neither language nor liturgy with their brethren in Castile and Andalusia.