Kurds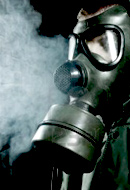 Chemical Warfare in the Middle East: A Brief History
Thursday, December 13, 2012 by
Alex Joffe
| Jewish Ideas Daily » Daily Features
At this time of Hanukkah's memories of Syrian tyrants past, the Syrian tyrant present, Bashar al-Assad, has reportedly assembled chemical weapons for use against the rebellion.
Editors' Picks
A Good Friend is Hard to Find
John Hannah
,
Foreign Policy
. With America's Muslim strategy literally crashing and burning on Arab streets, it is time to pay some attention to Iraqi Kurds who are actively seeking a U.S. alliance.