Joshua Eli Plaut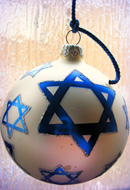 'Twas the Day After Christmas . . .
Wednesday, December 26, 2012 by
Ethan Schwartz
| Jewish Ideas Daily » Daily Features
Joshua Eli Plaut's new book, A Kosher Christmas: 'Tis the Season to Be Jewish, fails to recognize that in subverting Christmas, American Jews have promoted their own assimilation.