Jesus
The Bible: From One-Reeler to Docu-drama
Tuesday, April 23, 2013 by
Alex Joffe
| Jewish Ideas Daily » Daily Features
The History Channel's The Bible is a small epic, with editorial choices that produce predictable results.  But some of this smallness yields unexpected insights.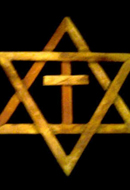 The Outstretched Hand
Wednesday, April 10, 2013 by
Motti Inbari
| Jewish Ideas Daily » Daily Features
My family and I celebrated Passover in Lumberton, North Carolina. We are the only Israelis in town and, as far as I know, the only Jews.  But it's not as lonely as it might sound, thanks to our Evangelical Christian neighbors.