Jean-Paul Sartre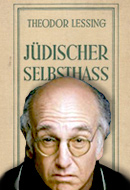 Self-Hatred or Self-Help?
Thursday, November 15, 2012 by
Ben Cohen
| Jewish Ideas Daily » Daily Features
One of the most insightful scenes from Larry David's comedy series, Curb Your Enthusiasm, begins with David and his on-air wife, Cheryl, standing at the entrance to a movie theater.  As they chatter aimlessly, David starts whistling a tune composed by Richard Wagner.
Editors' Picks
Lanzmann's Ladies
Benjamin Balint
,
Weekly Standard
. The memoir of filmmaker Claude Lanzmann, known for his achievement in
Shoah
, focuses on other "achievements": "I am the only man with whom Simone de Beauvoir lived a quasi-marital existence." 
Cherchez l'homme
Margot Lurie
,
Tablet
. Simone de Beauvoir's affair with the American Jewish novelist Nelson Algren gave her everything she never got from Sartre.