Jazz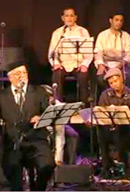 Come Swing with Me
Friday, May 31, 2013 by
Aryeh Tepper
| Jewish Ideas Daily » Daily Features
In the last of our highlights, Aryeh Tepper introduces the jazz-fueled piyyut of the New Jerusalem Orchestra; first published June 17, 2010.  Rejoin us on Monday for Mosaic's inaugural essay: Leon Kass on the Ten Commandments. 
Editors' Picks
Learning Jazz
James Hughes
,
Atlantic
. There was a jazz scene in Europe even under Nazi occupation.  Certain Nazis' love of jazz even managed to save the lives of a few Jewish musicians.
Brubeck's Jewish Music
Dave Brubeck
,
Moment
. Dave Brubeck, who died this week, was not Jewish.  But through his jazz, he played an important role in healing the rift between Jews and African Americans. (Interview by Howard Reich)
Copland's America
Stephen Brown
,
Times Literary Supplement
. Unlike other musical chroniclers of the American West, the Jewish composer Aaron Copland was not of pioneering stock.  But it was Copland who came to define the Western sound.