Israeli Supreme Court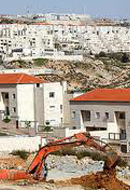 What are Israel's Rights in Judea and Samaria? Two Views
Two differing views of a controversial report on the legality of Jewish settlements in territories seized in the Six-Day War.
Editors' Picks
Elon's Middle Way
Jeremy Rosen
,
Algemeiner
. Menachem Elon—Orthodox rabbi, Talmud scholar, author of the magisterial treatise
Jewish Law
—opposed enshrining religion in Israeli law.  Now he has died, and his legacy is threatened.