Israeli policy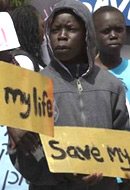 Deportation Dilemmas
Thursday, June 28, 2012 by
Elli Fischer
| Jewish Ideas Daily » Daily Features
Developed countries inevitably attract migrants in search of freedom or economic opportunity; no less inevitably, some native-born citizens react negatively, occasionally with violence, as neighborhoods change and livelihoods become threatened by the influx of cheaper labor.
Editors' Picks
Healthcare for Hamas
P. David Hornik
,
American Spectator
. Despite Hamas's implacable resolve to destroy Israel, hospitals in Israel routinely treat casualties from Gaza—including Ismail Haniyeh's brother-in-law.