Isaac Abravanel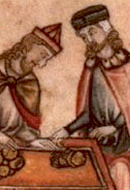 Renaissance Men
Monday, November 5, 2012 by
Adina M. Yoffie
| Jewish Ideas Daily » Daily Features
Hugo Grotius. Isaac Abravanel. Rabbi Joseph B. Soloveitchik.  These are not names normally mentioned in the same breath, but taken together, their experiences with and thoughts regarding interfaith encounters are instructive.
Editors' Picks
There Must Be an Angel
Gil Student
,
Torah Musings
. While angels often appear in Biblical narratives, medieval Jewish commentators could not agree about what they are—and what their nature means for the afterlife.