Iraqi Jews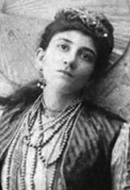 The First Lady of Fleet Street
Monday, April 23, 2012 by
Susan Hertog
| Jewish Ideas Daily » Daily Features
Her story is as old as Eve—lust for knowledge and power, disillusion, tragedy and rebirth—and as new as the modern world's technologically based global empires. It begins in the ghettos of Frankfurt and the cities of ancient Babylonia and ends in the mansions of Mayfair and country estates of England.
Editors' Picks
The Graveyard of Arabian Judaism
Nimrod Raphaeli
,
Jewish Press
. 19th-century Ottoman authorities brought a number of Iraqi Jews to Saudi Arabia to administer its oil-rich al-Ihsaa region.  They are gone now, but their cemetery remains.
Rav Ovadia's Revolution
,
Menachem Mendel
. "Like Coca-Cola,
l'havdil
": A video documentary on the idiosyncratic, infuriating genius of the
Baghdadi gaon
and the transformation of Sephardic Jewry in Israel.