Hasidism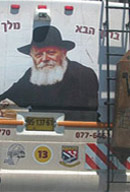 The Rebbe
Thursday, June 10, 2010 by
Yehudah Mirsky
| Jewish Ideas Daily » Daily Features
The story of Lubavitcher Hasidism in our time is nothing short of astounding. Here is an ultra-Orthodox sect, deployed all over the world, exuberantly engaged with non-observant Jews and with non-Jews, availing itself of every imaginable form of contemporary communications technology. What was, for generations, the most intellectual and scholastic-minded hasidic dynasty—its other name, Chabad, is an acronym for "Wisdom, Understanding, Knowledge"—has become an ecstatic mass movement. At the heart of it all is the seventh and last Lubavitcher rebbe, Menachem Mendel Schneerson (1902–1994), who died childless—and whom some substantial number of his followers forthrightly regard as the messiah.
Editors' Picks
Fans or Voyeurs?
Ilana Sichel
,
Los Angeles Review of Books
. Ex-Orthodox women's literature is becoming an unlikely subgenre of its own, but the quality of the writing is not quite keeping pace with its popularity.