Hajj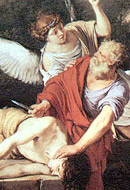 Whose Akedah Was It, Anyhow?
Friday, October 26, 2012 by
Moshe Sokolow
| Jewish Ideas Daily » Daily Features
Today, October 26, 2012, the world's Muslims will celebrate `Id al-Adha, commemorating Abraham's willingness to demonstrate his love of God by sacrificing his son.  While most Muslims assume that the son Abraham intended to sacrifice was Ishmael, this was not the unanimous opinion of early Muslims and Qur'anic scholars.