Gush Katif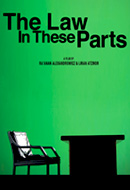 Justice in a Gray World
Monday, December 31, 2012 by
Robert Nicholson
| Jewish Ideas Daily » Daily Features
The Law In These Parts, a new documentary that places the blame for Palestinian woes on Israel's military lawyers, exhibits scant awareness of history—and limited knowledge of law.
Editors' Picks
Reengaging with Gush Katif
Zuri Genish
,
Ynet
. Seven years after Israel's disengagement from Gaza, many of the forcibly evicted Jewish residents remain homeless, jobless, and abandoned by the State which promised to support them.