Guardian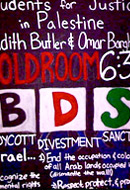 Department of Excuses: BDS at Brooklyn College
Tuesday, February 12, 2013 by
Jonathan Marks
| Jewish Ideas Daily » Daily Features
Brooklyn College's BDS panel was  no "open forum to discuss important topics," but anti-Zionist evangelism—which no academic department could support in good faith.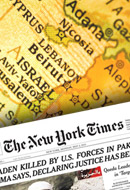 Signs of the Times
Thursday, February 7, 2013 by
Alex Joffe
| Jewish Ideas Daily » Daily Features
A new report by the Committee for Accuracy in Middle East Reporting in America is the latest in a long line to allege anti-Israel bias at the New York Times.  But the newspaper isn't about to change.   
Editors' Picks
Switched at Birth in Gaza?
,
Elder of Ziyon
. When playwright Ahmed Masoud related how he might have been switched at birth as a result of Israeli bombings, the European media lapped it up. After all, how could the story be fabricated?