Final Solution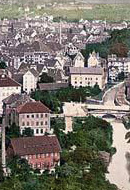 From Reparations to Atonement
Monday, January 28, 2013 by
Ismar Schorsch
| Jewish Ideas Daily » Daily Features
Where recognition of the Holocaust was once restricted to the office of the Chancellor, there is a grassroots commitment in today's Germany to take ownership of the past.
Editors' Picks
Preconditions to Murder
Timothy Snyder
,
New York Review of Books
. It is no accident that the Final Solution took place in territory where first the Soviets had destroyed independent states, then the Germans had destroyed Soviet institutions.
Romania's Final Solution
Michael Gesin
,
H-Net
. Romania's wartime leaders were so enamored of Nazi Germany that they developed their own Final Solution. So, why did half of Romania's Jews manage to survive?  
France's Jewish Archbishop
Robert Zaretsky
,
Forward
. The chief rabbi of Paris declared that "One cannot be both a Christian and a Jew."  But Jean-Marie (Aron) Lustiger never surrendered his double identity.