Exodus
B'shallah: Who is Like You?
Why it's "mi-KHAmokha" the first time and "mi KAmokha" the second time—and why it matters. (Click here for source sheet.) Download | Duration: 00:12:02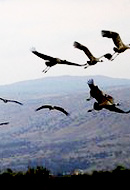 Shabbat Shirah: Song Takes Wing
Monday, January 21, 2013 by
Jerry Friedman
| Jewish Ideas Daily » Daily Features
Complementing the Song of the Sea, which will be read this Shabbat in synagogue, the Rabbis suggested a home-based ritual to celebrate Shabbat Shirah: feeding the birds.
Bo: The Great Escape
Why did God kill all the first-born of Egypt? (Click here for source sheet.) Download | Duration: 00:11:17
Va'era: Confronting Leviathan
Moses, snakes, and serpents—and what all that has to do with the story of creation. (Click here for source sheet.) Download | Duration: 00:11:46
Sh'mot: The Gathering
A mysterious connection between Moses and Elijah—coincidence? (Click here for source sheet.) Download | Duration: 00:11:47