Environmentalism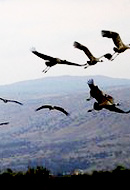 Shabbat Shirah: Song Takes Wing
Monday, January 21, 2013 by
Jerry Friedman
| Jewish Ideas Daily » Daily Features
Complementing the Song of the Sea, which will be read this Shabbat in synagogue, the Rabbis suggested a home-based ritual to celebrate Shabbat Shirah: feeding the birds.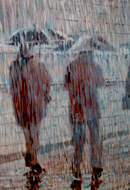 When Prayers for Rain are Answered
Friday, January 11, 2013 by
Alex Joffe
| Jewish Ideas Daily » Daily Features
Israel is, in most minds, an arid land bereft of water, not cursed with its superabundance.  But a look at geography and history suggests otherwise.
Editors' Picks
Jerusalem's Pleasant Pastures
June Glazer
,
ISRAEL21C
. After decades of struggle between developers and environmentalists, Jerusalem is about to break ground for Israel's first urban wildlife nature park, where herds of gazelle will roam free.
By the Sweat of Thy Brow
Paul Foer
,
JNS
. Based in the hills of north-west Connecticut, the Adamah Jewish Environmental Fellowship aims to bring Jews closer to the land and their Creator—by making pickles.