Entebbe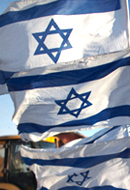 The Challenge of Sovereignty
Tuesday, April 16, 2013 by
Michael B. Oren
| Jewish Ideas Daily » Daily Features
On the eve of Israel's independence, David Ben-Gurion sat alone, questioning whether a people so long accustomed to being the victims of sovereign power could take responsibility for themselves.
Editors' Picks
Entebbe's Forgotten Dead
Eetta Prince-Gibson
,
Tablet
. Yoni Netanyahu is often thought to have been the only Israeli to die in the Entebbe raid.  But three hostages were killed by stray Israeli fire—and Israel has refused to investigate their deaths.