Eliaz Cohen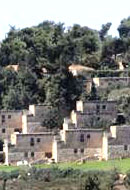 West Bank Blues
Wednesday, September 14, 2011 by
Aryeh Tepper
| Jewish Ideas Daily » Daily Features
Few groups are as demonized in public discourse as "the Jewish settlers" of the West Bank. To listen to the pundits, these international outlaws are single-handedly preventing the achievement of a utopian peace in the Middle East.
Editors' Picks
"A Radio Check with God"
Alan Brill
,
Book of Doctrines and Opinions
. Foremost among Israel's new cohort of religious Zionist poets, Eliaz Cohen writes verse that is at once political and lyrical, rooted in both Arabic and the biblical core of Jewish literature.