Edward Said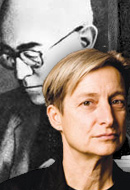 Adorno, Butler, and the Death of Irony
Friday, September 28, 2012 by
Alex Joffe
| Jewish Ideas Daily » Daily Features
Irony cannot exist in isolation; something is ironic only in relation to a larger pattern of events or behavior. Every three years, the city of Frankfurt awards its Adorno Prize to honor scholarly achievement in philosophy, music, film, and theater.
Editors' Picks
How Orientalism Shaped Obama
Lee Smith
,
Tablet
. Blaming the recent attacks against U.S. targets on a cheap video reflects Edward Said's argument that Europe subjugated Muslims by distorting perceptions of their culture.