Church of Jesus Christ of Latter-day Saints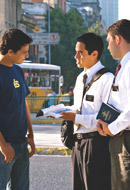 Do Jews Have a Mormon Problem?
Wednesday, February 22, 2012 by
Elliot Jager
| Jewish Ideas Daily » Daily Features
The religious values of presidents seldom satisfactorily explain their attitudes toward the Jews. Franklin Roosevelt's Episcopalian faith could not have foretold his hard-hearted policies during the Holocaust.  Harry Truman and Jimmy Carter, both Baptists, went in opposite directions.