Children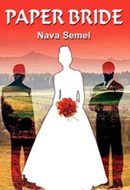 Not-So-Young Adult
Thursday, April 25, 2013 by
Diane Cole
| Jewish Ideas Daily » Daily Features
With remarkable sensitivity and clarity, Israeli novelist Nava Semel portrays children in Mandate Palestine working as hard as they can to make sense of a post-Holocaust, pre-state limbo.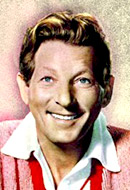 The Fool and the Assassin
Monday, February 18, 2013 by
Dan Kagan-Kans
| Jewish Ideas Daily » Daily Features
Most movie stars don't act, they play themselves.  Danny Kaye, the biggest star of all in the 1940s and 1950s, who would have been 100 last month, was different.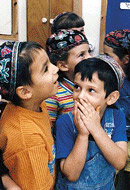 Denominational Delusions
Wednesday, February 6, 2013 by
Andrew Apostolou
| Jewish Ideas Daily » Daily Features
With synagogues closing, congregations ageing, and the non-Orthodox majority dwindling, American Jews are caught in a crisis. Yet no one is tackling the root of this problem: intermarriage.
"Touch not Mine Anointed Ones"
Friday, December 21, 2012 by
Moshe Sokolow
| Jewish Ideas Daily » Daily Features
Contemplating what occupies God all day, the Talmud declares that "during the last set of hours, God sits and teaches Torah to children who died untimely deaths."
The Whole Body
Monday, December 17, 2012 by
Viva Hammer
| Jewish Ideas Daily » Daily Features
My rabbinic father-in-law and my lay leader mother agree on one thing: no body piercing.  Ears, nose, and bellybutton, all are sacred property on loan from God.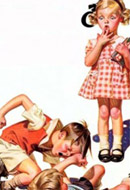 More Expensive by the Dozen
Thursday, October 11, 2012 by
Dara Horn
| Jewish Ideas Daily » Daily Features
A hundred years ago, industrial efficiency expert Frank Gilbreth, Jr. claimed that children were "cheaper by the dozen."  Recently the economist Bryan Caplan made the modern version of the self-interested argument for producing more offspring.  In an exclusive feature from the current issue of the Jewish Review of Books, novelist Dara Horn elegantly begs to differ.  —The Editors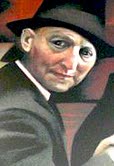 I. B. Singer's Last Laugh
Monday, August 6, 2012 by
David G. Roskies
| Jewish Ideas Daily » Daily Features
Like millions of his fellow immigrants to America, Isaac Bashevis Singer started over. In the beginning, he was a deadly serious Polish-Yiddish writer with world-literary ambitions.
Editors' Picks
Count Your Blessings
William Kolbrener
,
Open Minded Torah
. Halakhah says that the blessing recited upon the birth of a child with Down Syndrome is the same as the blessing upon a death.  A 17-year-old girl may know better.