Cairo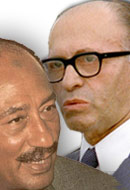 Frail Reeds?
Wednesday, February 2, 2011 by
Elliot Jager
| Jewish Ideas Daily » Daily Features
Observing Egypt's current upheaval, a writer for the Hebrew daily Makor Rishon has ventured the thought that whatever happens there, and no matter who takes power, "the lesson for Israel is clear: Arab regimes cannot be trusted."
Editors' Picks
Melville in Jerusalem
David Sugarman
,
Tablet
. Hoping to find spiritual uplift, the author of
Moby-Dick
made a pilgrimage to the Holy Land only to find Jerusalem "half melancholy, half farcical, like all the rest of the world."
The Scapegoat of Sinai
David Ignatius
,
Washington Post
. The dismissal of Egyptian General Murad Muwafi eliminates a former negotiator with Israel and demonstrates the Muslim Brotherhood's increasing control over the military.