Blessings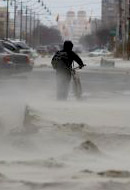 A Jewish View of Hurricanes
Thursday, November 1, 2012 by
Moshe Sokolow
| Jewish Ideas Daily » Daily Features
With school closed, transportation suspended, and the local park off limits, I cast about for something other than "work" to fill the day.  My thoughts turned to the weather, and I asked myself whether Judaism has anything instructive to say about hurricanes.
Editors' Picks
Count Your Blessings
William Kolbrener
,
Open Minded Torah
. Halakhah says that the blessing recited upon the birth of a child with Down Syndrome is the same as the blessing upon a death.  A 17-year-old girl may know better.
God Bless the Science
Baruch Sterman
,
Rarest Blue
. Judaism has a blessing for even the most mundane of occasions.  What is the blessing, then, that a researcher should recite upon making a spectacular scientific discovery?