BBC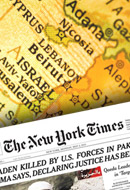 Signs of the Times
Thursday, February 7, 2013 by
Alex Joffe
| Jewish Ideas Daily » Daily Features
A new report by the Committee for Accuracy in Middle East Reporting in America is the latest in a long line to allege anti-Israel bias at the New York Times.  But the newspaper isn't about to change.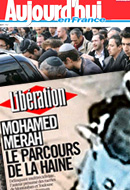 French Lessons
Wednesday, March 28, 2012 by
Simon Gordon
| Jewish Ideas Daily » Daily Features
The saga that captured headlines around the world last week came to an end when Mohamed Merah—who had murdered four people, including three children, at the Ozer Hatorah Jewish school in Toulouse, France—was shot dead by French police. Before his death, Merah told police negotiators that he was a member of al-Qaeda.
Editors' Picks
Bias at the Beeb?
,
Commentator
. In 2004, the BBC commissioned a report to allay public fears that its coverage of the Israeli-Palestinian conflict was partial. Now it has spent half a million dollars to ensure that the report isn't released.
Switched at Birth in Gaza?
,
Elder of Ziyon
. When playwright Ahmed Masoud related how he might have been switched at birth as a result of Israeli bombings, the European media lapped it up. After all, how could the story be fabricated?