Balfour Declaration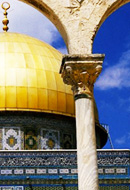 Seeking the Peace of Jerusalem—or a Piece of Jerusalem?
Thursday, January 17, 2013 by
Moshe Sokolow
| Jewish Ideas Daily » Daily Features
Archeology has become a full-fledged battlefield in the dispute over who has the superior claim to Jerusalem: Jews or Muslims.
Editors' Picks
Balfour and the Bolsheviks
Eddy Portnoy
,
Sh'ma
. History remembers 1917 for the Balfour Declaration's support of Zionism.  But Jews in 1917 were more interested in another event of that same week: the October Revolution.
The Forgotten Firebrand
Sue Vice
,
H-Net
. Appalled at the secularism of inter-war Anglo-Jewry, poet Izak Goller bemoaned "the gods of the shops and the warehouses / Hollow papier-mâché imitations of the Golden Calf of our ancestors!"