Azerbaijan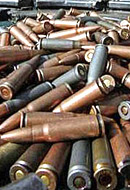 The Halakhah of Selling Arms
Tuesday, February 5, 2013 by
Shlomo M. Brody
| Jewish Ideas Daily » Daily Features
Jewish law prohibits individuals from selling weapons to irresponsible or violent customers.  But how does this apply to Israel's arms sales to foreign governments?
Editors' Picks
The Land of No Anti-Semitism
Anshel Pfeffer
,
Haaretz
. Azerbaijan's Jews, citizens of a pro-Israel nation with a venerable Jewish heritage, are sure that "there is no anti-Semitism here and there never has been."  But they depend on the president's favor.
The Fight for Azerbaijan
Alex Vatanka
,
Foreign Affairs
. Although Azerbaijan has deep historical connections with Iran, it shares Israel's desire to keep the Islamic Republic at bay.  So, both Iran and Israel are working hard to win its heart.