Atonement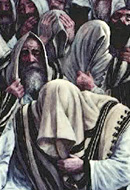 Happy Yom Kippur to You?
Tuesday, September 25, 2012 by
Shlomo M. Brody
| Jewish Ideas Daily » Daily Features
"Happy" is certainly not the first word that comes to mind for most of us when we describe our Yom Kippur experience.  After all, the Torah commands us to afflict ourselves on this day (Leviticus 23:26-31).
Editors' Picks
A Meaningful Fast
Avi S. Olitzky
,
TC Jewfolk
. Our Yom Kippur fast is nothing compared to what some of our ancestors, ancient and modern, devised for themselves.