Amidah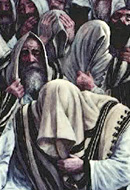 Happy Yom Kippur to You?
Tuesday, September 25, 2012 by
Shlomo M. Brody
| Jewish Ideas Daily » Daily Features
"Happy" is certainly not the first word that comes to mind for most of us when we describe our Yom Kippur experience.  After all, the Torah commands us to afflict ourselves on this day (Leviticus 23:26-31).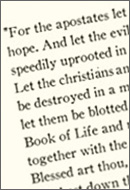 Do Jews Curse Christians?
Tuesday, July 17, 2012 by
Allan Nadler
| Jewish Ideas Daily » Daily Features
The patristic authority Jerome complained bitterly about the Jews' condemnation of notsrim (believers in Jesus, "the Nazarite"), in the benediction of the daily Amidah known as Birkat ha-Minim: "three times a day in all their synagogues they anathemize the Christian name."
Editors' Picks
Rain Check
Arnold A. Lasker
,
Daniel J. Lasker
,
Conservative Judaism
. The date on which we begin praying for rain is based on Iraqi agricultural cycles and a calendar mistake.  But it's not likely to change before the Messiah comes.