American politics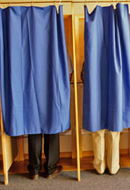 The Jewish Vote, 2012
Thursday, September 27, 2012 by
Michael Barone
| Jewish Ideas Daily » Daily Features
The Jewish vote, once pivotal in American politics, is still important, though not as much as it was seven decades ago.  Back in the 1940s, Jews cast four percent of the votes in America, twice the percentage they do today.  And they cast a much larger share in the state of New York.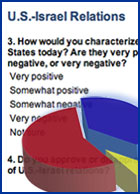 Polling American Jews
Wednesday, April 21, 2010 by
Elliot Jager
| Jewish Ideas Daily » Daily Features
What does the predominantly liberal Asian-American community think of President Barack Obama's policies toward China, particularly on the issue of Tibet?  Where do America's 2.35 million Muslims stand on Washington's conduct of the war in Afghanistan-Pakistan? It's hard to say. Yet minute shifts in American Jewish public opinion are carefully tracked. Why?  Because, says the Hebrew University political scientist Tamir Sheafer,  although comprising at most three percent of the population, America's Jews—well-educated, relatively affluent, and "over-represented" in medicine, science, law, media, entertainment, and politics—are perceived to be an important, well-organized, and powerful interest group. They are major financial contributors to political...