Alcohol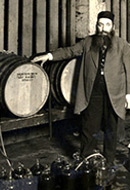 (F)rum Runners
Prohibition is perennially making a comeback, at least in the media; and this is one of those revival times. It began with the HBO TV series Boardwalk Empire, now in its second season, set in Prohibition-era Atlantic City and priding itself on its historical accuracy.
Editors' Picks
Beer with a Back Story
Editors
,
Jewish Ideas Daily
. What happens when Israel's emerging boutique beer culture intersects with the American trend toward getting to know the food one eats?
Lost Tribes Brew
happens. The New York-based microbrewery produces beers based on recipes gathered from various remote communities claiming Israelite origins, like India's Bene Menashe and Ethiopia's Beta Israel.No doubt, part of this is a gimmick: in order to successfully market an odd-tasting beer brewed by a bunch of Jewish twenty-somethings in upstate New York, you need to have a good story, like one that connects your customer to
real or imagined ancient Israelite foodways
(note that...