Al Aqsa Mosque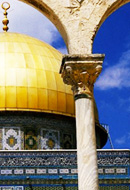 Seeking the Peace of Jerusalem—or a Piece of Jerusalem?
Thursday, January 17, 2013 by
Moshe Sokolow
| Jewish Ideas Daily » Daily Features
Archeology has become a full-fledged battlefield in the dispute over who has the superior claim to Jerusalem: Jews or Muslims.
Editors' Picks
The Elephant in the Mosque
Jonathan D. Halevi
,
Jerusalem Center for Public Affairs
. Mahmoud Abbas' recent agreement with King Abdullah II reaffirms Jordanian jurisdiction over the Al-Aqsa compound but ignores Jordan's Palestinian dilemma.
Mounting Tension
Daniel Tauber
,
Jerusalem Post
. When Israeli police arrest Jews for the crime of praying on the Temple Mount, they are subjecting peaceful citizens to the whims of a violent minority.