Academia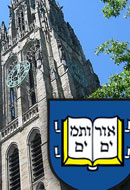 Anti-Semitism and Man at Yale
Tuesday, May 21, 2013 by
Alex Joffe
| Jewish Ideas Daily » Daily Features
Continuing our retrospective, we revisit Alex Joffe's critique of the unwillingness of Western universities to confront contemporary anti-Semitism, first published June 13, 2011. 
Editors' Picks
Israel's New Academic Diversity
Dror Eydar
,
Israel Hayom
. The opposition of Israel's academic establishment to Ariel University is less about its location than the fact that Ariel threatens the Left's hegemony over higher education.