Raider of the Lost Knish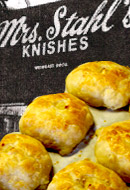 I took the knish for granted; then it was gone. 
More than latkes, matzah or the chopped-apple-and-walnut haroset that crowned the seder plate, knishes were our religion.  My family went on Brooklyn-Queens Expressway pilgrimages to Mrs. Stahl's Knishes of Brighton Beach and harbored the findings in our freezer.  My parents ushered knishes into the toaster oven and moved magazines to make room on the Saturday afternoon table. 
More than Hebrew School, a Torah scroll or the eternal light in the synagogue, the knish provided sanctuary.  It encapsulated my identity: ethnic, funny, and grounded in the past. 
When my father's mother got a spot in coveted senior housing on the beach a few blocks from Mrs. Stahl's, our lives intermingled with the stuffed dough in a new way.  Gramma Fritzie was not a knish baker, but she was a knish consumer extraordinaire.  I stocked her icebox at each visit: a half-dozen kasha (buckwheat), to be heated in the toaster oven and served to guests and the parade of international home aides who managed the unpleasant and unmentionable aspects of the aging process.  Angie from Trinidad, Paulane from Haiti, and Renate from Russia all became conversant in the ways of my grandmother and in the ways of the knish: one syllable, non-silent K, served with mustard. 
I inherited my grandmother's teapot, her popcorn popper and unused Hallmark stationery; but when I really needed to conjure her, I went to Mrs. Stahl's. The store wafted warm and oniony with strains of Yiddish.  I took my kasha knish hot and headed for the boardwalk, hoping for an encounter with the spirit of my grandmother.  Elderly men in long shorts, earphones and metal detectors scoured the beach; I relied on the knish.  I gazed up at the window of apartment 12A of the Scheuer House and imagined Gramma staring down, speaking to me through the steam that emanated from the paper bag. 
Mrs. Stahl's became my surrogate grandmother.  The woman behind the counter was Latina, but that diminished nothing. When my father's Aunt Esther died, my parents and I went to the graveside service on Staten Island, lingered awkwardly and made a beeline for Mrs. Stahl's, for solace and something to stick in our stomachs.  We knew her offspring more intimately than Aunt Esther's. 
Then she, too disappeared. 
For 70 years, Mrs. Stahl's Knishes had stood beneath the elevated subway at Brighton Beach. Then it became a Subway®.  Sepia maps of old New York covered the walls of the sandwich franchise and masked the real history the shop embodied.  I could not revive Mrs. Stahl's knishes, so I set out to gather facts. 
A handful of phone calls led me to Mike Conte, the Vineland, New Jersey pasta maker who purchased Mrs. Stahl's recipe from the shop's final owner.  Conte made his kitchen kosher, mixed the dough and filling by machine and finished the knishes by hand.  He baked Mrs. Stahl's staple next to his heirloom gnocchi and tortellini and trucked the Ashkenazi pockets to New York where deli cases and bagel shops took them in. Small placards with the Mrs. Stahl's name accompanied each shipment, but no one displayed them. 
That was 2005, on my father's side. 
In 2008, I landed in Bialystok, Poland for a look at the land of my maternal forebears.  I met up with my mother and four of her cousins.  The older generation was gone; we were several times removed.  It had been decades since we'd seen each other.  They lived in New Jersey, we lived in New York. 
Our guide took us to the Jewish cemetery of Bialystok.  Tomek Wisniewski read Hebrew from the disheveled tombstones and commandeered Cousin Ed to lift one of the toppled monoliths.  No luck.  We drifted toward the black obelisk that commemorated the pogrom of 1906 (our people left in 1914 and 1920).  I admired the shiny, upright graves of the adjacent cemetery, Catholic. 
We immersed ourselves in rich hot chocolate and a sauna.  The Hotel Branicki (four stars) provided thick white robes and slippers, but no place to hang shock or mourning.  I had arrived with visions of a Shabbat dinner with lace curtains that would evoke my mother's mother.  Three times I asked Tomek to introduce us to the Jewish community.  Three times he said there were only six people, none of whom had been born there.  We were five women and one man, all descendants of Max and Celia Levy, buried in Washington Cemetery, Brooklyn.  Cousin Ed kept saying that the last name, in Poland at least, had been Czapnik, according to what his father told him.  I was not convinced and did not want to argue. 
At dusk on our third and final night in Bialystok, my mother's cousin Maxine (named for Max Levy) remembered about the birth certificate.  Maxine (she goes by Max) had traveled from San Diego to New York, through Prague and Warsaw, with a large brown duffel bag nicknamed The Beast. Its belly held a Ziploc® bag. The Ziploc® bag held a sheet of beige parchment, decked with official stamps, official seals and official signatures.  The sun began its descent.  The wall behind the hotel glowed red. Our train was slated for 10 A.M. the next day. Tomek  translated: in the town of Knyszyn was born a daughter, Szjena Czapnik (Jean, my grandmother's youngest sister, may she rest in peace, had died two years earlier, in Florida.) 
A year later, I landed in Poland with black and white printouts of knishes.  Square ones, round ones, fried and baked, split and whole, exposed and encased in aluminum foil.  Karol, a Polish Jew and new friend from Warsaw, agreed to be my interpreter.  Tomek met us at the Bialystok station.  Wooden churches and bales of hay pocked wide fields and a tarp of relentless sky.  I expected Fiddler on the Roof meets The Golden Girls and braced myself for the local Hadassah chapter and the decades-old cholent they would have kept on the stove for just this occasion.  "So you're the great-niece of Szejna Czapnik?  She was a small child, but feisty." 
Tomek sent Karol and me to roam the town square, then ushered us into Knyszyn Town Hall to the second-floor office of a Gene Wilder look-alike.  The head of public relations for the town glanced at my knish headshots with a good-natured smile.  Modern-day Knyszyn has 2,000 inhabitants; before World War II, it had twice that number, half of whom were Jews.  The town historian, Henryk Stasciewisz, arrived by bicycle, in a sportscoat.  The men purred and sputtered.  They asked for Aunt Jean's birth certificate and incanted, "Czapnik."  I plucked words from the Polish: Płacząca (weeping, as in willow).  Pamiętać (remember).  Ulica (street).  The men stood and sat, raised their voices and lowered them.  They opened books and urged them shut.  I stared at the window with its lace curtains and thought: Nana's kitchen. 
I saw her get teary over a cutting board, once.  She blamed the onions.  Nana made kugels with corn flakes, split pea soup and seltzer-fluffy matzoh balls.  At the bakery on Jerome Avenue, she bought bowtie cookies, chocolate horns and salt sticks, but Eva Farbstein née Levy never served knishes and never mentioned Knyszyn. 
In Knyszyn, Pan Henryk, (we addressed him with the everyday honorific for elders) took Tomek, Karol and me to the graveyard.  We parked on the outskirts and unfolded a quick picnic: local beer and a baked roll with vegetable guts.  Pan Henryk tucked in his cuffs, turned up his collar and led us through a forest studded with tombstones.  We saw markers from the 1700s with Hebrew inscriptions worn to near-oblivion. Ten years before our visit, Tomek, who is not Jewish, transcribed and transliterated names from 700 matzevot, or grave markers.  My family did not figure in, but the knish did.  According to local legend, professional mourners hired to cry at funerals distributed filled pastries to the bereaved, to acknowledge grief and assuage it. 
The following year, en route to Knyszyn yet again, I got waylaid at the State Archive in Bialystok.  I wrote the Polish words for birth, death and marriage on official state forms.  Those forms brought binders, which brought more binders, which brought books of birth records in Cyrillic and a name I had never heard: Riwa Mordkowna (Riva, daughter of Mordechai), alongside one I had tried to ignore, Czapnik.  My mother's mother was born with a name, nearly erased; in 1898, not in Bialystok, but in Knyszyn. 
I haven't given up on the knish, and occasionally bake my own.  More important: I'm a direct descendent of Knyszyn, which explains my penchant for wide sky, heavy carbohydrates, and haggling with the past. 
Laura Silver is a research associate at the Hadassah-Brandeis Institute.  The Book of Knish is forthcoming from Brandeis University Press.
Tags:
American Judaism
,
Arts & Culture
,
food
,
Jewish Identity
,
Knish
,
Knyszyn
,
New York City
,
Pogrom
,
Poland
,
Shabbat
,
World War II
COMMENTS
Comments are closed for this article.