The Jewish Vote, 2012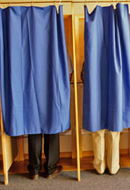 The Jewish vote, once pivotal in American politics, is still important, though not as much as it was seven decades ago.  Back in the 1940s, Jews cast four percent of the votes in America, twice the percentage they do today.  And they cast a much larger share in the state of New York, which in the politics of the first half of the 20th century was a closely fought state in any close presidential election.  New York was then also the country's largest state by far, with 47 electoral votes, and cast 13 percent of the nation's popular votes (in the 1944 election a full seven percent of the popular votes, one out of every 14, were cast in the five boroughs of New York City).  
Jewish voters in New York had little affection for the state's Republican Party, predominantly upstate-based and Protestant, or for the heavily Catholic machine Democrats of New York City; and Jews stood to the left of both parties on economic and cultural issues.  One of their favorite politicians was Fiorello LaGuardia, Jewish on his mother's side, who was elected to Congress from East Harlem in the 1920s as the nominee of the Republican and Socialist parties and elected mayor in 1933, 1937, and 1941 over the opposition of the machine-run Democratic party, the first time as the Republican Party candidate and the last two times on the leftish American Labor Party tickets as well.
Thus, the politics of Jewish voters in New York, and to a lesser extent in some of the other large states, provided an incentive for both parties to nominate liberal candidates—often one from New York—and advocate liberal policies.  In every presidential election from 1924 to 1952 (when Dwight Eisenhower ran from his perch as president of Columbia University), at least one major party had a New Yorker at the head of its ticket.  In 1940 and 1944, both did.  Franklin Roosevelt, who ran both times, owned a townhouse on East 65th Street.  Wendell Willkie, the Republicans' candidate in 1940, had an apartment on the museum block of Fifth Avenue; Thomas E. Dewey, their candidate in 1944, lived on East 71st Street.  
In 1948 Dewey, Harry Truman, and third-party candidate Henry Wallace all stressed their support of civil rights.  The target of these appeals was not so much black voters—there weren't many black voters in those days—as it was the Jewish vote.  Dewey carried New York's 47 electoral votes 46 to 45 percent, with eight percent for Wallace, who won nearly half his votes nationally from New York State.
Things have changed.  Jewish voters became solidly Democratic after the 1960 election, New York became solidly Democratic as well, and after 1963 New York was no longer the most populous state: it is now about to be passed by Florida, to become number four in population.  Jews now constitute two percent of the national electorate, not four percent as in the 1940s.  One reason is their low birth rates; another is the enfranchisement in the 1960s of Southern black voters and—because of the abolition of poll taxes—many Southern white voters. 
Since then, according to exit polls, Jews have voted between 64 percent and 80 percent Democratic in every presidential election but one.  That exception was in 1980, when Jews favored Jimmy Carter over Ronald Reagan by margin of just six percentage points, 45 to 39 percent, and Reagan, to just about everyone's surprise, carried New York, 47 to 44 percent.  In the last four elections Jews have voted 78 percent for Bill Clinton, 79 percent for Al Gore (and Joe Lieberman), 74 percent for John Kerry, and 78 percent for Barack Obama.  Republican nominees in those elections won, respectively, only 16 percent, 19 percent, 25 percent, and 21 percent of Jewish votes.
This year, polling suggests, Barack Obama will find it hard to duplicate his 2008 margin of 57 percentage points over John McCain.  A September, 2011 survey conducted for the American Jewish Committee showed Obama with negative ratings on the economy and his "handling of U.S.-Israel relations" and put him ahead of Mitt Romney, then a candidate for the Republican nomination, by only 50 to 32 percent, or 18 percentage points.  A March, 2012 survey, also for the American Jewish Committee, showed Obama leading Romney, who had then not quite cinched the Republican nomination, by 61 to 28 percent, a margin of 33 percentage points.  A Jewish Voters Values Survey, sponsored by the Public Religion Research Institute and conducted at about the same time, showed that 62 percent of Jews wanted to see Obama reelected and 30 percent would prefer a Republican.  Of those preferring a Republican, 62 percent favored Romney, with between 12 percent and 15 percent each for Rick Santorum, Newt Gingrich, and Ron Paul.  In the crucial Ohio Republican primary, Romney may have owed his 38 to 37 percent win over Rick Santorum to the Jewish Republican voters—despite their relatively small numbers—in that state.
Corroborating evidence of Obama's slippage among Jewish voters comes from the Pew Research Center's compilation, based on multiple surveys, of party identification.  Pew found that between 2008 and 2012, Democratic Party identification among Jews dropped from 72 to 66 percent and Republican Party identification increased from 20 to 28 percent.  Jewish voters' switch towards the Republicans was higher than among any other religious group.  It leaves Republicans still outnumbered among Jews by more than two to one but cuts the Democratic margin by about one-third.  In a recent national poll by Investor's Business Daily and its polling partner TIPP (IBD/TIPP), the two percent of poll respondents who were Jewish favored Obama over Romney by a 59 percent to 35 percent margin.  The sample size was probably too small to be meaningful, but the result is roughly consistent with the other findings cited.
What all these results point to is something less than a two-to-one advantage for Obama over Romney among Jewish voters, similar to the split in the Jewish vote in 1972, 1976, 1984, and 1988.  The drop-off in the Democratic percentage among Jews could be crucial, as the Republican Jewish Coalition points out, in target states like Florida, Pennsylvania, Ohio, and Michigan—particularly Florida, where in 2008 Obama carried the heavily Jewish Broward and Palm Beach Counties by 390,145 votes, much more than his statewide margin of 236,148.  In other words, without the size of his margin in those counties, Obama would likely have lost Florida's electoral votes.
There is always a tendency to ascribe changes in Jewish voting patterns to issues relating to Israel.  Dissatisfaction with incumbents' Israel policies undoubtedly accounts for the very weak Jewish support, compared to other Democrats, of Jimmy Carter (45 percent) and the record low support for George H. W. Bush in 1992 (11 percent).  But responses to issue questions in the AJC surveys suggest that while some of the decline in Obama's standing is prompted by Israel issues, some is due more to economic and other issues on which Obama has had problems with voters generally.  
It should be noted that these polls (except for IBD/TIPP) were conducted well before the Democratic National Convention, at which reference to Jerusalem as the capital of Israel was first omitted from the platform, then awkwardly reinserted, and before Israeli Prime Minister Benjamin Netanyahu's recent statement on red lines and red lights.  The bottom line: it looks like Jewish voters will favor Obama by a little less than two to one, and not, as in 2008, by a little less than four to one.                                     
Michael Barone is senior political analyst at the Washington Examiner and a resident fellow at the American Enterprise Institute.
Tags:
AJC
,
American politics
,
Barack Obama
,
Benjamin Netanyahu
,
Civil Rights
,
Democratic Party
,
Demographics
,
Election 2012
,
Fiorello LaGuardia
,
Mitt Romney
,
Republican Party
COMMENTS
Comments are closed for this article.